UTILITY TRAILER Manufatured by PJ Trailers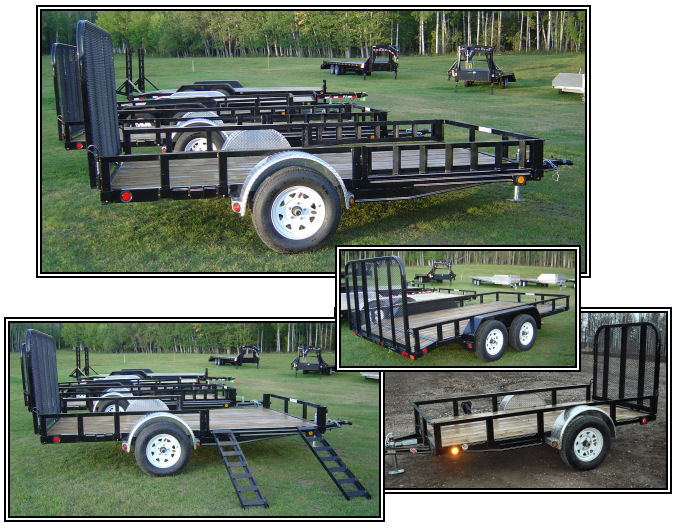 Pictures show a 5' x 10', a 7' x 14' side load option, and a 7' x 14' tandem (heavier fenders).
Perfect for Hauling your quads, side by sides, lawn tractors and more!
For list of trailers in stock, options available, and pricing, PLEASE CALL!
Trailer Sizes: 5' x 10', 6' x 12', 7' x 12', 7' x 14' (all single axle 3500lb)
and the 7' x 14' and 7' x 16' in tandem (3500lb axles)
Standard Features
Removeable Aluminum Fenders
Removeable Side Rails
2 - Ramp Gates with spring assist
Treated Boards on Deck
Tandem Braking Axles, numberous sizes available
15" RadialTires
Powder Coat Finish
Options
Side Load Ramps (most common option), making a 6 x12 trailer and larger able to accommodate 2 quads. Load 1st at front from the side, and the 2nd from the back.
some come with Spare Tire Carrier
some have Heavier Duty Fenders
Variety of sizes and options available, please call for more information and pricing.
If you have any questions we would love to hear from you, call us at 780-674-5550 or e-mail us