FLOE VERSA-MAX TANDEM AXLE RAMP TRAILER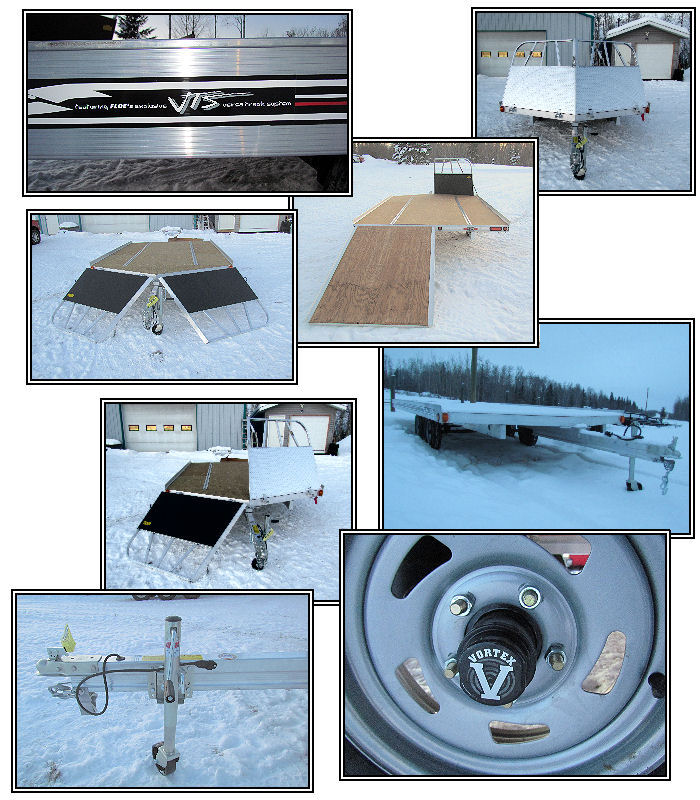 Aluminum V-Nose / Drive On Off
Trailer Features
STANDARD FEATURES
Extra wide 52" ramp is easily accessed with the self-stowing system. The heavy-duty ramp easily attaches on the front of the trailer for unloading and on the rear of the trailer for loading.
Two Versa-Tracks™
Exclusive reinforced tongue is longer for easier backing and unloading.
V-Front design adds strength and provides for simple, drive off unloading.
All extruded, tubular frame.
Vortex hub system.
Dependent on length of the trailer, they come with 2 (2,200 lb) torsion axles or varying axle sizes or triple axle units.
Includes tongue jack.
Duel Electric Brakes available on all models.
Limited 10 year warranty on aluminum structure and lighting.
Available in 12', 14', 16', 20' and 28' lengths with tandem axle (102" wide)
OPTIONAL FEATURES
V-Front salt guard: with its rugged extruded aluminum design, sturdy diamond plate front and impact-resistant plastic sheeting for drive off surface.
FLOE's extra heavy aluminum tie-down bars with ski-protective boots hold like no other, with the versa lock that slides in the track system and can be locked with a padlock.
Quick Loops allow you to create a tie down point anywhere along the track system.
FLOE's multi-purpose solution provide the ultimate in protection and convenience.
If you have any questions we would love to hear from you, call us at 780-674-5550 or e-mail us