QUAD/SNOWMOBILE TRAILER (single axle) Manufatured by Mustang Trailers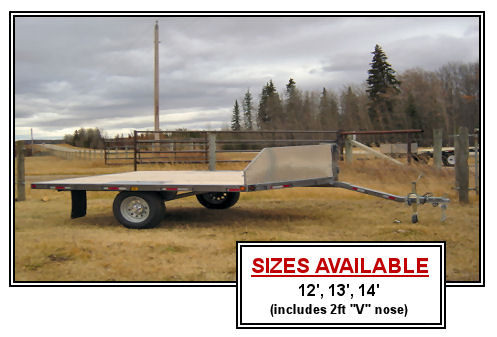 Standard Trailer Features
Length - 12 ft. (10 ft with 2 ft 'V' Nose)
Width - 8 ft 6 inches
Construction - Tube Steel
Wheels -

15" Radial, rated for more that the axles hold
Rally Rim with Hub Cap

Hitch - Drop Down
Fenders - Level with decking, made of 12 gauge steel
Loading Light - Cargo Light at Front Beam for loading at night
Protected Lights - Plexiglas covering on front trailer lights so they won't get broken by rocks, etc. from truck tires.
Axle Rating -

Single Axle is 3500 lbs.
Torsion Flex Axles

Loading -

Drive on / Drive off feature, front aluminum check plate swing guards on spring locks with grease nipples.
Aluminum Ramp, hidden under deck and locks in with spring locks.
Rollaway Trailer Jack.
OPTIONS AVAILABLE
Fully Sealed Wiring
7 Prong RV Plug
Endura Paint
Mud Flaps
3 YEAR WARRANTY
CLIENT MAY CUSTOMIZE ORDER WITH NUMEROUS OPTIONS FROM THE MANUFACTURER
If you have any questions we would love to hear from you, call us at 780-674-5550 or e-mail us