NEWMAN'S INC Aluminum Tilt Trailer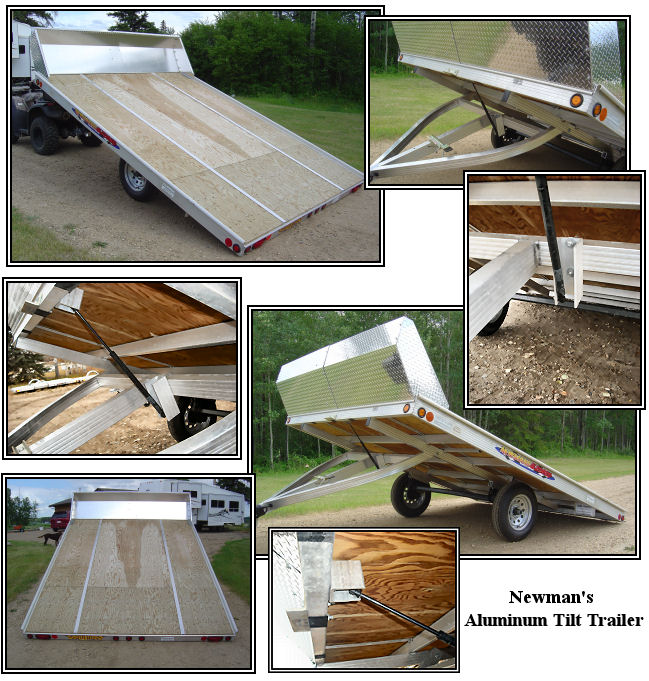 NEWMAN'S INC.® Aluminum Tilt Trailer
Sled Bed's Tilt series has a trailer that fits your needs. Tilt trailers equipped with tilt-assist gas shocks. Want to protect your sleds from the elements? Sled Bed also offers a front guard for the tilt trailers. All tilt trailers are equipped with 13" tires.
Features
Sled Bed's "Original" Wishbone Tongue design has set the industry standard for tilt trailers. The Wishbone tongue is constructed of tubular aluminum extrusions, providing strength and support where it matters most. And pivot bushings ensure a smooth, stable ride.
To ensure safe transport, Sled Bed Tilt trailers feature Deluxe Wing Bars with 3/4" cranks that bolt directly to the trailer frame. Sturdy Wing Bars grip your snowmobile skis, while Ski Protector Boots prevent damage.
Nothing can ruin a snowmobile trip quicker than a traffic ticket for faulty lighting. Sled bed's wiring system is fully enclosed within the frame of the trailer. One-piece molded light casings make tail, brake, and turn signal lighting weatherproof, which means you'll arrive at your destination safely.
Sled Bed's Tilt series has you covered. Along with the great Sled Bed Tilt features, Sled Bed's wide Side trailer has custom side extrusions specially .
Please call for more information on sizes and prices.
If you have any questions we would love to hear from you, call us at 780-674-5550 or e-mail us